A collection of the 2012 Hoffman Challenge Quilts will be on display as part of the Great Lakes Seaway Trail Beauty of the Byways Quilt Show March 16-17 and March 23-24 in Sackets Harbor, NY.
The 80-piece collection made with lavender, pink, and pearl Hoffman Fabrics will be on exhibit in four historic venues in the waterfront village

.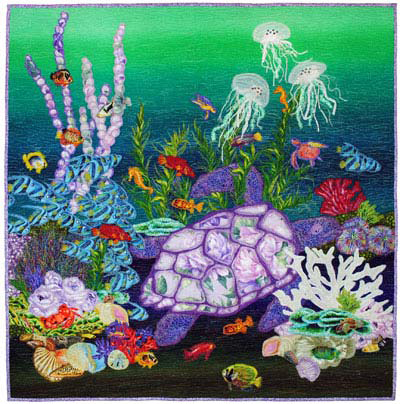 Pictured above: The Hoffman Challenge Third Place Appliqued Quilt was made by Judy Beskow from the Creole Nature Trail byway region of Louisiana. Photo courtesy of Hoffman Fabrics.
"This is the 24th anniversary of he Hoffman Challenge with categories for pieced, appliqué, mixed technique, wearable art, accessories and dolls made by quilters from around the world. We are pleased to send one of the traveling trunks to the Great Lakes Seaway Trail in March 2013 as it celebrates the beauty of the byways," says Hoffman Challenge Curator Julie Breidt, Windsor, Colorado. The collection coming to the Great Lakes Seaway Trail show includes eight Hoffman Challenge award winners, several of which fit the show's Beauty of the Byways theme. The Hoffman Challenge display will be joined at the March event by a Route 66 Traveling Exhibit of 49 quilts honoring the historic American highway and displays of favorite American and Canadian byway landscapes and landmarks made by North American quilters.
The Hoffman Challenge was started in 1988 by Hoffman Fabrics of Mission Viejo, CA. The wholesale converter works with textile artists, artists, and graphic designers to create more than 800 original screenprints and hand-dyed batiks and handpainted fabrics annually. Currently, 6 Hoffman Challenge traveling trunk exhibits of quilts are visiting sites in the U.S. and Canada. Two of the trunks will be at the March 2013 Great Lakes Seaway Trail show in Sackets Harbor, NY.